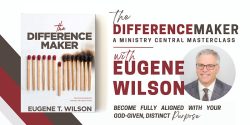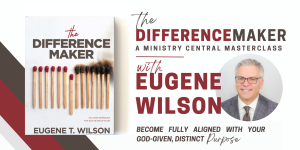 Join Eugene Wilson as he shares practical teaching on how you
can become aligned with your God-given purpose.
About this event
In The Difference Maker, a Ministry Central Masterclass with Eugene Wilson, participants will go on a journey of discovering their unique purpose in the Kingdom of God. Borrowing from his latest book, Dr. Wilson will present four unique principles on the topic of purpose that will help you on this path of discovery. If you're new in ministry or searching for what's next, this Masterclass was made with you in mind. Reserve your spot today or better yet, grab some friends and start the journey together.
What does the The Difference Maker Ministry Central Masterclass include?
1. Four live ZOOM sessions with Eugene Wilson every Monday in June at 7 PM CST. Each session can be viewed individually or as a team and will include topical teaching and a time for Q&A. During the four, live ZOOM sessions, individuals will learn how to:
June 6: Identify Your Distinct God-Given Purpose
June 13: Overcome Obstacles in the Path of Your Purpose
June 20: Conquer Distractions that Derail Your Purpose
June 27 (this session will be at 7:30 PM CST): Take Practical Steps in Achieving Your Purpose
2. Eugene Wilson's extended 7-lesson video course through Ministry Central.
3. The Difference Maker Workbook: a digital, interactive guidebook to help you work through and implement the shared concepts.
4. Lifetime access to all of the above resources
Who should register?
The short answer is anyone who has a desire to serve in ministry! No matter what you feel called to do within the church, you can benefit from this training.
What are the registration options?
Individual Pass: provides access for one to the live ZOOM sessions, one license to Eugene Wilson's 7-lesson video course, and the Difference Maker Workbook.
Team Pass: provides access for an entire church team to the live ZOOM sessions, five licenses to Eugene Wilson's 7-lesson video course, and The Difference Maker Workbook for every team member.
How will we access the ZOOM sessions and the 7-lesson course?
A link will be provided that can be used to access each ZOOM session. The 7-lesson course will be released shortly after the last live session and specific instructions for accessing that will be provided to all who have registered.
How do I get a copy of The Difference Maker?
The Difference Maker is available at pentecostalpublishing.com. Everyone who's registered will be emailed a discount code allowing them to save 10% on their purchase of the book.
For questions, please email ministrycentral@upci.org